Home Page
By law, most types of businesses must accurately maintain a Fixed Assets Register.
Upgrading
from Version 3? Click
here
for the highlights.
Faswin is an accounting tool that allows you to easily calculate depreciation on all of your Fixed Assets. It makes the task of keeping a Fixed Asset Register simple and as little work as possible.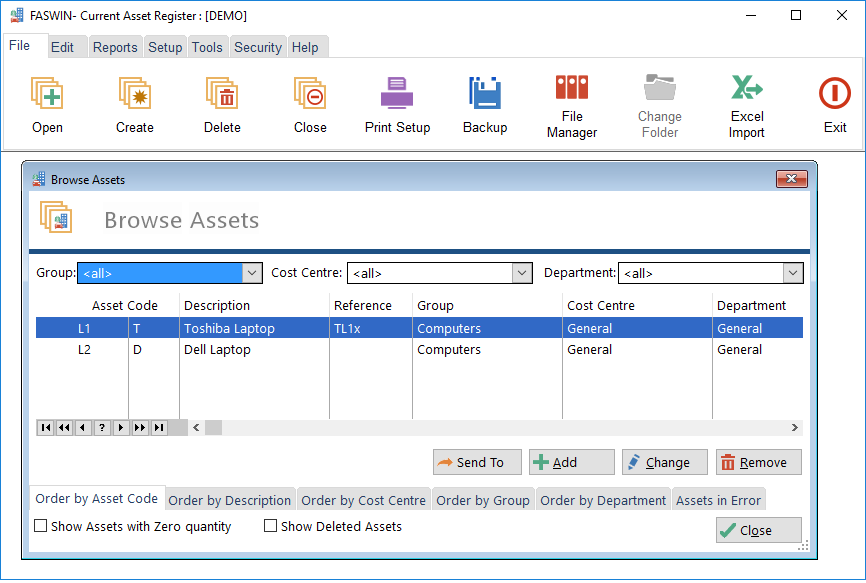 Tested by time, Faswin has been helping businesses calculate their depreciation for over 30 years.

Faswin caters for all businesses large or small. It's simple to use for those companies with only a few assets, yet robust enough to handle companies with thousands of assets.

Extensive reporting capabilities coupled with Excel integration, means that your data is not trapped. It's easy to enter, and easy to extract.

Faswin has been trusted by businesses running either DOS or Windows since 1984. Now fully updated to conform to Windows 10 standards, Faswin still runs easily on older version of Windows like Windows XP. In fact you can run Faswin on Windows XP, Vista, 7, 8 and Windows 10.

There are two versions of FasWin, a Standard Edition - for the single user environment (limited to 1000 Assets) and an Enterprise Edition for computer networks and larger companies with more than one user (unlimited number of Assets).

Faswin has No Annual Licensing Fees - The program you buy works forever. Plus there are No Minor Upgrade Fees - when you buy version 4 you get all the version 4 updates for free. We'll only charge again when it's time for Version 5. And even then you choose to upgrade or not.

There is simply no easier way to manage your fixed asset depreciation than by using Faswin.

Find out more about Faswin by clicking here.

Download a free 30 day trial version of Faswin by clicking here.

To purchase Faswin for your business today click here.